Description
"And who knows whether you have not attained royalty for such a time as this?" Ester 4:13-14
The YOU ARE ROYALTY candle is a beautiful story of a simple orphan girl raised to the status of a queen.
Our candles are hand-made with high-quality, premium ingredients. The YOU ARE ROYALTY candle features light vanilla fragrance oils made without harmful chemicals. Each candle is hand-poured with a  burn time of 40 hours.
Perfect for any occasion the You Are Royalty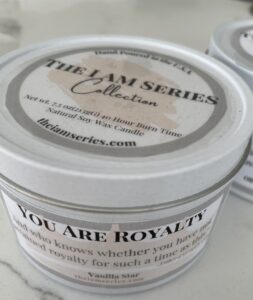 candle features a cute white tin with a cover and beautiful reminder for your special recipient.
With every purchase, a portion of the proceeds goes to 4Kids. 4Kids exists to bring hope, homes, and healing to kids and families in crisis across South Florida and the Treasure Coast. In partnership with local churches, businesses, and government agencies, 4KIDS is committed to redefining foster care in our community, one child at a time.