Living AIP Paleo is throwing a party and you're invited!
We'll be teaching you how to build your own AIP (autoimmune protocol) approved Charcuterie board.
Class includes a bit of board history, board styles, utensils, yummy autoimmune and paleo foods, specialty drinks, and a bundle of laughs to share, all from the comfort of your home!
We can't wait to Charcuterie with you!
Sign up here https://py.pl/n5Nv6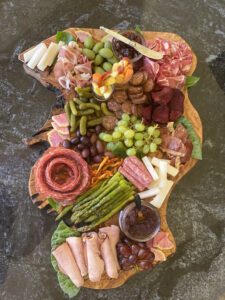 Are you ready to get your creative charcuterie hat on?
Let's have some fun while learning to create amazing charcuterie boards using autoimmune protocol products to create your board. All products showcased are AIP approved. I will show you what products, where to find them, where to order them as well as tips and tricks to make roses and other fun arrangements.
Are you ready to jump in and some fun? We can't wait to Charcuterie with you!
Reserve Your Spot:  https://py.pl/n5Nv6